Instruments
The "Violin", in its current form, is virtually unchanged from the days of Antonio Stradivari and Joseph Guarneri. Many of the "greatest" instruments from the early and mid-1700's remain to give us glorious music and examples to study and use as patterns. Most of these old instruments have had the tops re-graduated and the necks and bass bars changed. We will never know if the changes improved or harmed the tone from the original instrument, but the basic design is mostly the same.
Through the years literally thousands of modifications have been tried by luthiers to improve the violin. Some have tried radical re-designs some minor modifications but after all is said and done the basic form and shape of the old fiddles from that "golden age" remain as the benchmark.
The most well known violin maker of all time is Antonio Stradivari but if you know much about violins you also know about the other "greatest" violin maker, Joseph Guarneri a.k.a. "del Gesu". Many of the experts feel that the Guarneri violins were actually superior to Stradivari in power and tone but this remains open to debate. The perception of sound by the human ear is a very subjective thing. Most everyone
will agree though, the two makers created violins with a different sound. Stradivari violins generally have a brighter, lighter tone where Guarneri violins tend to have a darker, deeper tone.
5-String Violin
My 5-Sting Violin is based on the "del Gesu" "Cannone" which was made in 1743. This violin was named and made famous by Niccolo Paganini who claimed it was the greatest violin ever made. The original dimensions have been expanded to provide more internal air volume. This increased volume provides a larger air chamber to give a deeper voice and provide resonance for the added "C" string.
The 5-string violin is not your standard concert classical instrument. It is most often used by Jazz, Rock, Bluegrass and Celtic players who want a broader tonal palette. Because they are not under the constraints of tradition, it opens up the types of wood that can be used on this instrument. Woods that are typically found in fine guitars can be used to produce outstanding violins!
Product Summary
The Dudley 5-string design is based on the "Cannone" made by del Gesu Guarneri made in 1743. The body and ribs have been enlarged slightly to produce a full rich tone and a larger resonance air chamber for the added "C" sting to be able to produce plenty of growl.
The unique thing about this design is that it is not a 4-string violin that has just had a 5th string jammed into it. It is a redesign that allows the instrument to open up and produce a full round tone. This violin is slightly larger than a 4/4 size violin but considerably small than a viola.
I have maintained the standard violin scale length and neck size so that it is very player friendly even for ladies with small hands.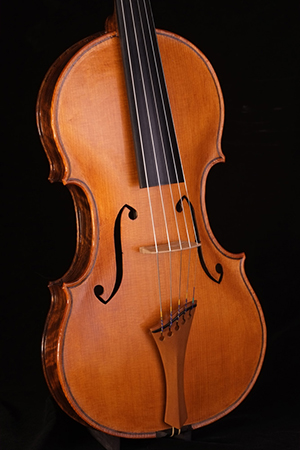 130 mm stop length
25 mm wide neck at the nut
14.5 inch body length
Increased rib height
Inquire About Pricing
Inquire about
5-String Violins
Dudley 4-String Violin
My four string violin is also based on a Guarneri "Cannone" pattern. This is the violin made famous by Niccolo Paganini. This is a violin known for it's beauty and tonal quality and is said by many to be the greatest violin ever made.
Professional musicians around the world praise the power and sonority of Guarneri violins.
Product Summary
The Dudley 4-sting is a standard 4/4 size concert violin for the professional musician or advanced student. It is built in my one man shop using traditional techniques and tools. The violin has a "sweet rich tone" and is very even across the stings.
Traditional materials are used to make this violin. The back, neck and ribs are made from flamed maple. The soundboard is made from Spruce. If you want a Stradivari model made I can also make that for you.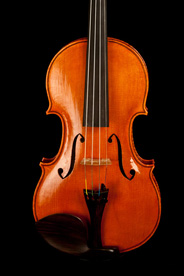 24 m/m wide at the nut
14 in. body
Inquire About Pricing
Inquire about
4-String Violins